ZeroTech Dobby Review
Posted on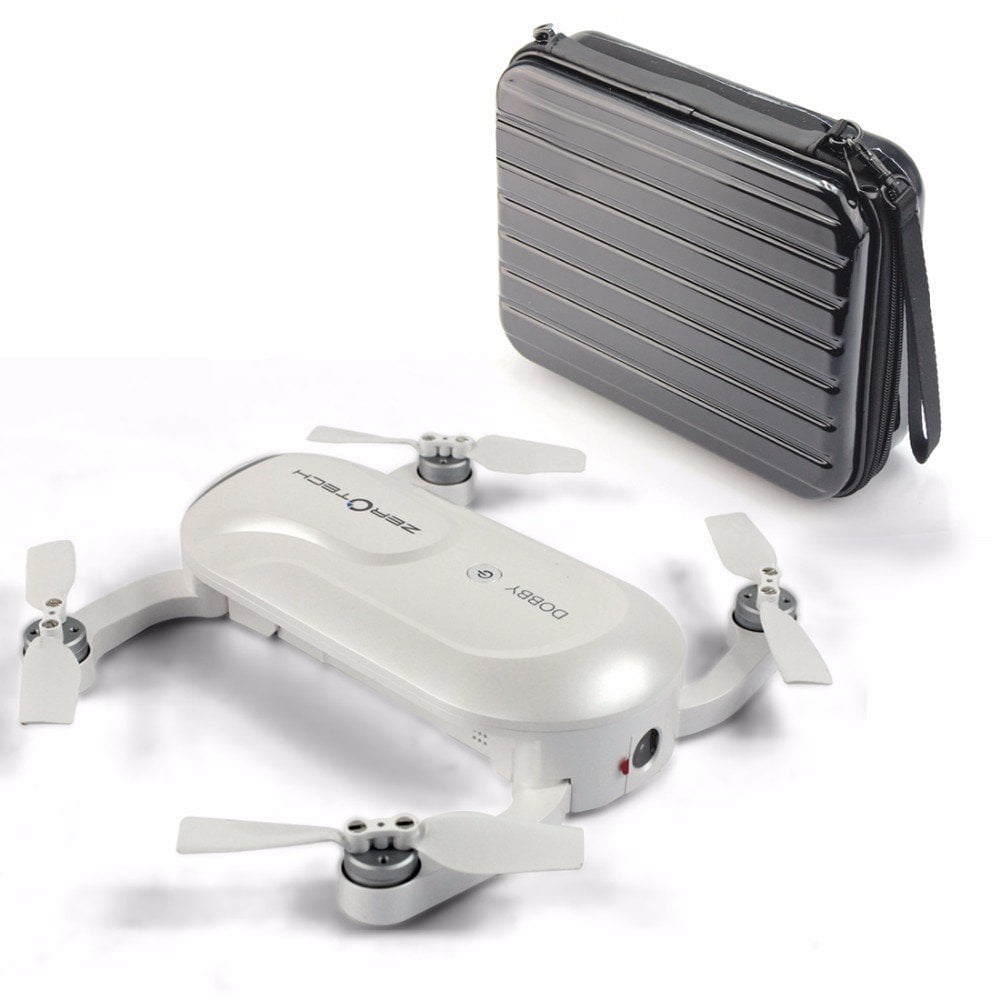 Zerotech Dobby
The Zerotech Dobby
is a robust and well build drone which at just under 200g is somewhat heavier than some of its Pocket Selfie Drone competitors. It is about the size of a smartphone, but around double the thickness so will not fit into a back pocket easily, but that said both the propellers and arms fold into the body which makes it highly portable, much more so than a typical high-end drone.
The Zerotech Dobby
has an advertised battery life of around 9 minutes, however in reality this is more like 5 minutes, with a charging time of 45 minutes. It is shipped with only one battery, but spare batteries are readily available if a little pricey. It does not come with a remote controller as it is controlled by a smartphone app which has a straightforward interface and is relatively easy to use. The app offers various flight modes including Orbit (flies around you), Target Tracking, Face Tracking and Return to Home, all of which work reasonably well, with the drone using GPS to maintain its position with impressive accuracy. Other features such as voice control however do not seem to work. There are also auto take off and landing features, and the drone has landing sensors on the underside which bring it down gently.
The 13-megapixel camera can be found at the front of the drone, and can be manually adjusted to different angles to take the perfect shot. The high spec camera is one of this drones features, but the 4k video is not stabilised so is not great quality, however the 1080p video is with varying levels of Electronic Image Stabilisation (EIS) which are very effective. The real time FPV is also excellent quality with no lag.
Whilst the body of the Zerotech Dobby
itself is robust, and can withstand winds of up to 17mph, the plastic propellers are rather delicate. Plastic clip on guards are available but have to be purchased separately as they do not come with the drone.
Our Verdict
The Zerotech Dobby
is a step above the very cheap selfie drones which are available, as you would expect for the price, but the photo and video quality falls short of being professional standard. That said it is a very portable drone which can fit easily into your back and is ideal to carry round for those spontaneous shoots and photo opportunities you may come across. A couple of software issues let it down but all in all it does what is says on the tin: it's a great Pocket Selfie Drone!