Walkera QR X350 Pro Review
Posted on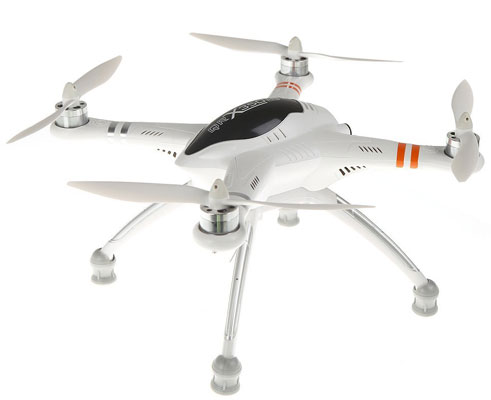 The Walkera QR X350 Pro
, like the DJI Phantom 2, is aimed at drone enthusiasts who want all the features of the expensive models at an affordable price. It is the sucessor to, and a much improved version of, the Walkera QR X350 in that it has a better flight controller, a bigger battery, higher landing gear and a much sturdier body. It measures 55cm x 36cm, has a battery life of 25 mins, a charge time of 1 hour, a flight range of 1000 metres and a top speed of 45 mph.
The Walkera QR X350 Pro
is sold in a number of configurations, with or without a gimbal and/or camera, and with either the Devo F7, F10 or F12E transmitters. The Devo F7 is Walkera's entry level transmitter which has 7 channels and a range of approximately 400m. The Devo F10 has 10 channels and a range of approximately 1 kilometer. The Devo F12E is Walkera's flagship transmitter which has 12 channels and removable antennae which can be replaced with larger ones for improved range and reception. If you plan to upgrade to a better quadcopter in the future you will be able to use this transmitter with larger and more advanced drones.
There are two gimbals available with the Walkera QR X350 Pro
, the G-2D and the G-3D. Both feature brushless motors, with the G-2D allowing rotation on 2 axis (roll and tilt), and the G-3D offering an additional 3rd axis (pan). Utilising the third axis is difficult if you are flying the drone as it is hard to pan the camera and fly at the same time. Also the Walkera QR X350 Pro
does not have retractable landing gear so the skids can appear in the video when you are panning round. However, for normal filming the G-3D offers greater stability for the camera and provides smoother footage, as the G-2D can jump if you turn steeply which can affect video quality. The gimbals are tricky to assemble and connect with tiny screws and awkward angles.
The Walkera QR X350 Pro
gimbal is compatible with either the Walkera iLook HD Camera
which can be purchased along with the drone, or with the GoPro HERO3
or GoPro HERO4
. The Walkera iLook HD Camera
is cheaper than the GoPro and in terms of video quality and resoloution, it is almost as good. It is promoted as FPV ready, and is compatible with Fatshark FPV Goggles
and it also has a built in antenna so it looks tidy once mounted on the drone. The Walkera iLook HD Camera
also uses the drone's power so there is no additional battery to charge, and it is robustly built with a metal case, and has been know to survive some serious crashes fully intact. The camera requires an SD card to record video footage, and this has to be removed and plugged into a card reader in order to view it, unlike the GoPro which uses wifi. There is a built in mushroom antenna on the side of the Walkera iLook HD Camera
and its location can restrict the range of the video feed from certain directions, also the user instructions are a little vague. The Walkera iLook HD Camera
is designed specifically for use with drones so if you want better quality video and more flexiblity then a GoPro may be a better bet as it can be used in other situations and for other sports.
If you wish to use a GoPro on with the Walkera QR X350 Pro
you will need to buy an additional TX5803 Transmitter
and Walkera QR X350 Pro GoPro Hero Video Cable
.
The Walkera QR X350 Pro
comes with a spare set of propellers but no propeller guards, although these are available to purchase separately and are recommended to prevent damage. When you take the Walkera QR X350 Pro
out of the box you will need to fit the propellers but they go on easily and there are indicators on each prop arm to show which one goes where.
When you switch on the Walkera QR X350 Pro
, the throttle needs to be in the centre and all the other switches need to be in the Off (up) postion in order to arm the quad. When you plug in the cables to initialise it, it will set your home position using the built in GPS. If using a camera, it will transmit video to the LCD screen on the transmitter.
The Walkera QR X350 Pro
takes a while to learn to fly properly, but it has the standard features which all work pretty well. Return to Home means the quadcopter will come back to you and land itself, and Position Hold locks the quadcopter according to its GPS position. It will hover in one place and keep itself stable despite any wind, which is ideal if you want to film in one spot.
The improved APM flight controller in the Walkera QR X350 Pro
is compatible with Arducopters Mission Planner, which supposedly adds a whole host of other features to the drone including Waypoint Navigation using Google Maps. You need to down load the free Mission Planner software from the Arducopter website, and connect the Walkera QR X350 Pro
to your computer via a USB cable in order to configure the drone to the software. There is a strong note of caution with this however, in that it gives you the ability to tweak around with your drone's parameters and whilst this may be tempting, it is very easy to mess them up and cause your drone to crash. It seems that there are some compatibility issues with the flight controller and Mission Planner so it is best just used for waypoint navigation only.
There is another issue with the Walkera QR X350 Pro
in that the battery has a Low Voltage Cutoff (LVC) feature which is designed to protect the battery and prevent it from over discharging. Unfortunately sometimes during flight the voltage in the Walkera QR X350 Pro
battery drops to 10.75V or less, which is perfectly normal, but this can cause the flight controller to shut off power to the motors in an attempt to protect the battery, with the effect that the quadcopter will drop out of the sky like a stone. Several owners have reported their Walkera QR X350 Pro
being smashed to smithereens following a fall from altitude.
Our Verdict
The Walkera QR X350 Pro
is a direct rival to the DJI Phantom 2, and on paper it looks a worthy contender. Even taking into account the fact that you have to buy a camera seperately it is approximately £200 cheaper, it has a much greater flight range and it is 10mph faster, and although it has a steeper learning curve in terms of flying, once mastered it is a fun and gratifying quadcopter to fly. It offers a choice of two high quality cameras, and is a great all-in-one solution for FPV and filming video. Spares are fairly cheap and readily available, including Walkera X350 Spare Batteries
, spare rotor blades, propeller guards, body parts and motors. It is also compatible with Fatshark FPV Goggles
for FPV flying, and has a built in GPS which supports waypoint navigation and an accurate Return to Home feature. The downsides are that it is more difficult to fly than the Phantom 2, and it features a couple of flaws. Firstly it is not as compatible with the Arducopter Mission Planning software as it should be, and tweaks needed to add additional features to the Walkera QR X350 Pro
can cause it to fly erratically or even crash. Secondly, some owners have found the LVC feature designed to protect the battery can cause the flight controller to cut power to the motors, again causing the Walkera QR X350 Pro
to crash. In our view, whilst the DJI Phantom 2 may not be as exciting, it is more reliable and therefore seems a better bet.