Aviax F2C Review
Posted on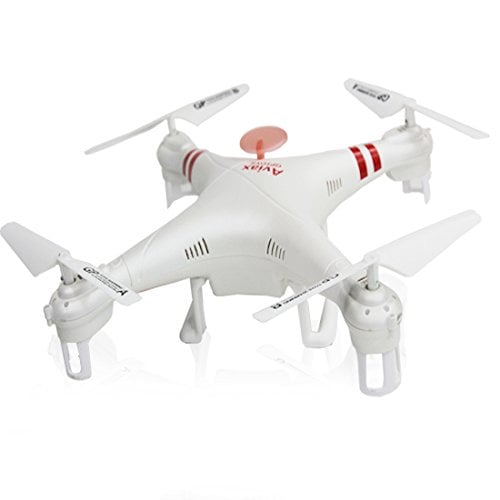 The Aviax F2C
is very similar to the Syma X5C-1
both in looks and build, and Syma X5C-1 spare batteries
and Crash Packs can be used for this quadcopter. However, the Aviax F2C
flies better than the Syma X5C-1
and has a couple of additional features such as Headless mode and Cruise control. The camera is also different, and is not as good as the Syma X5C-1
.
The Aviax F2C
is shipped almost ready to fly, you just snap on the landing gear, screw on the rotor blade guards and install the batteries. It comes with a spare set of rotor blades, a 4Gb SD card and USB card reader as well as a battery for the drone, but no batteries for the controller which takes 4 x AAs. There is no ON/OFF switch on the drone, you connect the battery to turn it on.
The controller has an LCD screen which shows how much flying time you have left, as well as icons which indicate whether you are in photo or video mode. You can control the camera from the controller, taking video or stills, and also turn the flashing LED lights on the drone ON or OFF.
The Aviax F2C
has four flight modes, Beginner, Intermediate, Intermediate 2 and Expert. It is easy to fly and control with incredible stability, and the Headless mode and Cruise control are great fun to play with. The Headless mode remembers its initial orientation so it can also be used as a Return to Home function. The cruise control works by remembering the previous 40 seconds of flight, so you after hitting that mode you can take your hands off the controls and the drone will fly itself. There is also a 360 degree flip feature.
The Aviax F2C
has around 8-10 mins flying time with charging time of around 60-90 mins via the USB charger that comes with it. It has a fantastic 100m range which is plenty for this drone, you will lose sight of it before it flies out of range. In terms of the camera, the picture quality is good but the footage is quite choppy with the odd missed frame. There have also been reports of the camera not working at all in some cases.
Our Verdict
Like the Syma X5C-1
, the Aviax F2C
is brilliant value for money. It is tough and durable, and great fun to fly with some neat features such as Headless mode and Cruise control. Spares are also cheap and easy to find, its just the camera which lets it down. As impressive as the Syma X5C-1
though in this price range.