Udi U842 Falcon Review
Posted on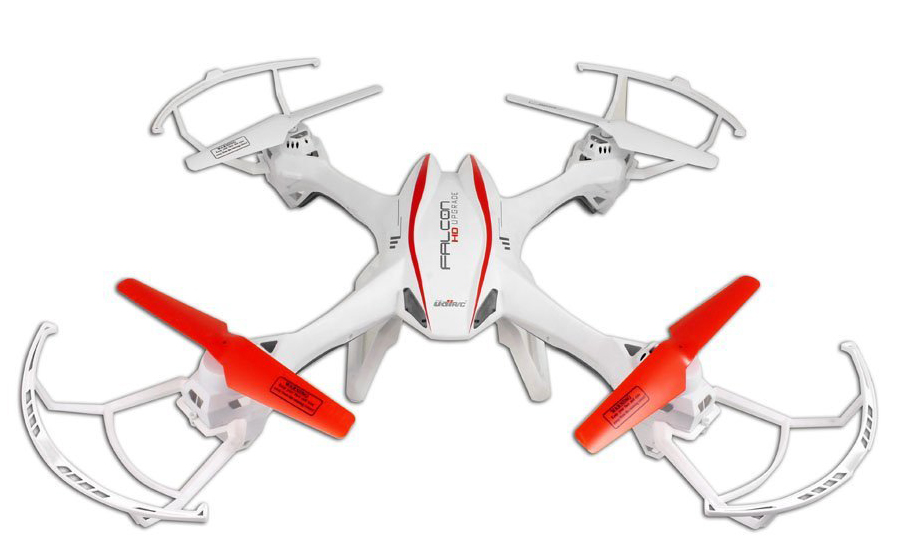 The UDI U842 Falcon
is a large (48cm x 48cm) quadcopter which is tough and robust, and ready to fly pretty much straight out of the box. It is suitable for both beginners and more experienced flyers, and it is fitted with a HD 1280x720 camera which takes great quality video footage recorded to a Micro SD card which is included. The drone itself flies well, and the 6 axis gyro keeps it stable in the air so it is easy to fly and takes pretty smooth video.
There are two flight modes, Beginner and Intermediate. Beginner mode is perfect for getting used to the controls and learning how to fly the quadcopter, as it will maintain its stability in the air and it wont react to drastically to any over zealous use of the controls. However it can be a little slow and you may have difficulty flying the drone if it is slightly windy. In the Intermediate mode, the UDI U842 Falcon
is much faster and more manoeuverable and the controls are more sensitive. You can also perform flips and rolls at the touch of a button.
Flight time is around 7-9 minutes depending on how you fly, and charge time is up to 120mins. The drone comes with a set of spare rotor blades and optional rotor guards. The battery has a proprietory connector so you need customised batteries but Udi U842 Faldon Spare Batteries
are readily available along with spare rotor blades. The range of the UDI U842 Falcon
is quoted as 30m but in reality it will fly further than this, possibly up to 100m.
The camera on the UDI U842 Falcon
takes good quality footage, the pictures are sharp and the light balance is good, but colours may look a little washed out. All in all this is a great sized quality quadcopter for the price and we certainly think it is worth a try.
Our Verdict
A really great drone for the price, the UDI U842 Falcon
is a pretty decent size, and easy to fly with an intermediate mode to keep you challenged once you have mastered the controls. It has an excellent quality camera and readily available spares.


Buy Now