Drone Laws In The UK - 2022
Drones and model aircraft have now been split into five classes, and the registration requirements depend on the weight or class of your drone. To check whether you need to need to register your drone, click here.
Most drones and model aircraft weighing more than 250g must now be registered with the Civil Aviation Authority, and must not be flown until a free online test has been passed by the pilot. For a drone to be flown, it must have both an Operator ID and a Flyer ID. A Drone Operator is the person responsible for managing the drone, i.e. for maintaining it, and making sure that anyone that flies it has a valid Flyer ID.

Drone Operators must be over 18, and pay £10 each year to register with the CAA. They will be given a unique code which must be displayed on the drone. Although these new regulations will add to the cost and hassle of owning a drone, there is a huge advantage, in that lost drones can now be reunited with their owners. The CAA has launched a website called Drones Reunited (dronesreunited.uk) , where lost and found drones can be registered, and hopefully be reunited with their owners.
Drone Flyers must pass a test which consists of 20 questions, and 16 must be answered correctly in order to pass. The test is free, and there is no limit to the amount of times the test can be taken, and no minimum age requirement, although children under 13 can only register with a parent or guardian.
Failure to register your UAV and pass the tests is a criminal offence carrying a penalty of fines or even prison.
To register your drone, and take the test, click here: Register your drone
The laws relating to drones and UAVs are as follows:
Drones weighing more than 250g must not be flown above 400ft, unless they are using FPV, in which case they may not go above 1000ft. Drones must not be flown within 1km of airports, airfields and all No Fly Zones.
As guidance, drones should also be kept away from animals and livestock including horses, as they can scare them and cause fatal consequences. There are increasing numbers of reports of horses being spooked by close flying drones, with riders being injured and horses being killed.
It gets more complicated if the drone is fitted with a camera, as these are subject to privacy laws and even possibly the Data Protection Act if you are filming other people in public places. Drones fitted with cameras must not be flown within 50 metres of people, vehicles, buildings or structures, or within 150 of congested areas or large gatherings such as concerts and sports events.
UK Drone Laws can be summarised by the infographic below.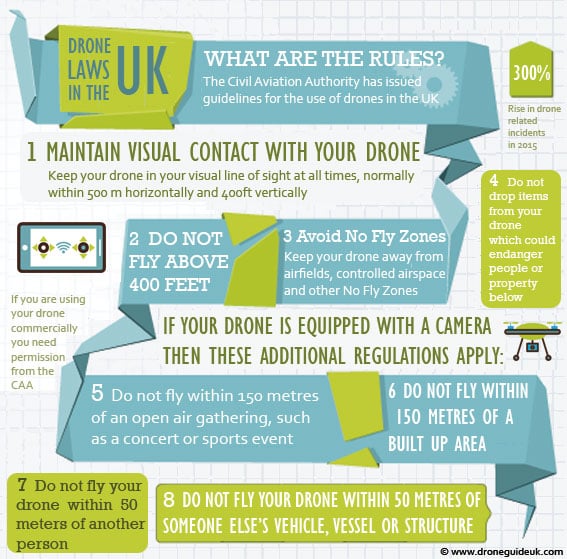 Alternatively there is a mnemonic spelling DRONE which may make the drone flying code easier to remember:
Don't fly near airports or airfields
Remember to stay below 120m (400ft) and at least 50m (150ft) away from people
Observe your drone at all times
Never fly near aircraft
Enjoy responsibly